Kusto Group agrees joint venture with Valmont Industries to build production plant for modern irrigation systems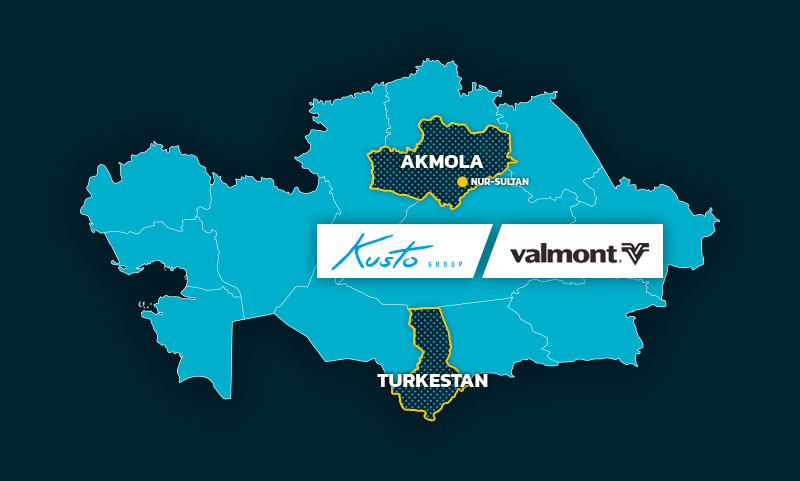 Backed by a $50 million investment, the new plant will have capacity to construct modern irrigation systems in country. The joint venture between Kusto Group and Valmont Industries aims to create a network of farms to transfer advanced technologies in irrigation, sustainable use of water resources, feed production, education and training farmers and qualified personnel. Demonstration sites, where modern irrigation installations will be presented, will be developed in the Akmola and Turkistan regions.
The new venture addresses longstanding underinvestment in Kazakhstan's agricultural sector. With just 7% of land currently irrigated, there is significant potential for productivity growth in the sector. Yerkin Tatishev, Founder & Chairman of Kusto Group called the project «a major step forward for Kazakhstan's agricultural sector and for the country's wider development.»
Mr Tatishev attended a signing ceremony for the historic agreement alongside Stephen Kaniewski, President & CEO of Valmont Industries, Mr Askar Mamin, the Prime Minister of Kazakhstan, and Mr Saparkhan Omarov, Kazakhstan's Minister of Agriculture.
«When business leaders share the same goals and actions, great things can happen,» Mr Tatishev commented. «Our agreement with Valmont Industries means our US partners will share the most advanced technologies for irrigation, water resource efficiency and crop production. Combined with Kusto's local knowledge, experience and industrial expertise, it will make for a powerful partnership.»
The agreement with Valmont Industries is the latest in a series of partnerships Kusto Group has entered into with US firms specialising in innovative agricultural technology. The Valmont deal follows partnerships with Baumgartner Agriculture Science and Service (BASS) on seed production, and Global Beef on beef production.