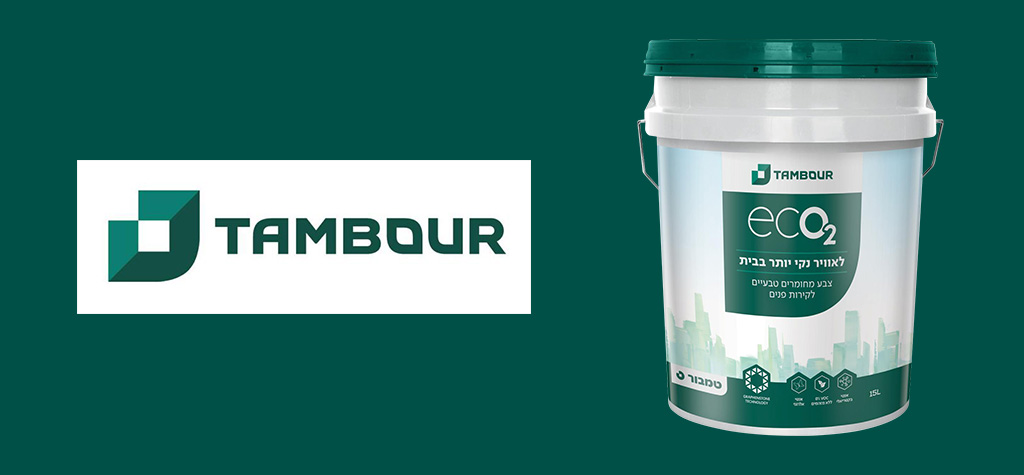 As part of these efforts, Kusto's Israeli paint and construction materials manufacturer has recently launched a brand new ecological paint product and incorporated a range of green design features at its state-of-the-art production facility in Ashkelon. The lesson from Tambour's recent activity is clear: minimising the company's ecological footprint and delivering high-quality products for customers are one and the same goal.
Tambour's new paint, eco2, is an excellent example. Made of natural substances, free from volatile organic compounds (VOCs), pollutants, preservatives or microplastic particles, the paint is Tambour's most environmentally friendly yet. But more than that, its improved breathability allows better passage of air and moisture, curbs the growth of mould and fungi, and prevents bad odours from developing. Thanks to these ecological features, eco2 has won a European standard A+ rating for indoor air quality.
Eco2 is also the only antibacterial paint in Israel with a bacteria elimination rate of 99.9%, which won it the Sensitive Choice badge, a quality certification of antiallergenic products. Bacteria-free walls are more suitable for babies and people who suffer from allergies, asthma, and other skin and respiratory conditions. At a time when all of us are more conscious of our health and the health of those closest to us, Tambour's sustainable innovations will be of huge value to consumers.
The new production facility at Ashkelon also demonstrates the wide-reaching benefits of Tambour's green ambitions. The facility's smart design leverages the natural world — wind and gravity — to minimise power and energy consumption in its cooling systems and in production processes, amounting to energy savings of up to 30%. Through recycling of raw materials and zero pollutants thanks to advanced dust suction systems, the facility will preserve the environment in which it operates. The upshot is a reduced cost for consumers and our planet.
The inauguration of the new production facility at Ashkelon and the recent unveiling of a new logo mark the opening of the next chapter in the Tambour's development. At the heart of this new era is a philosophy that unites consumer and environmental benefit under one purpose. I hope that this ethos will define the industry's future direction — for consumers and the environment, it will be a win-win.