"This is only the beginning": KazBeef celebrates its 10th anniversary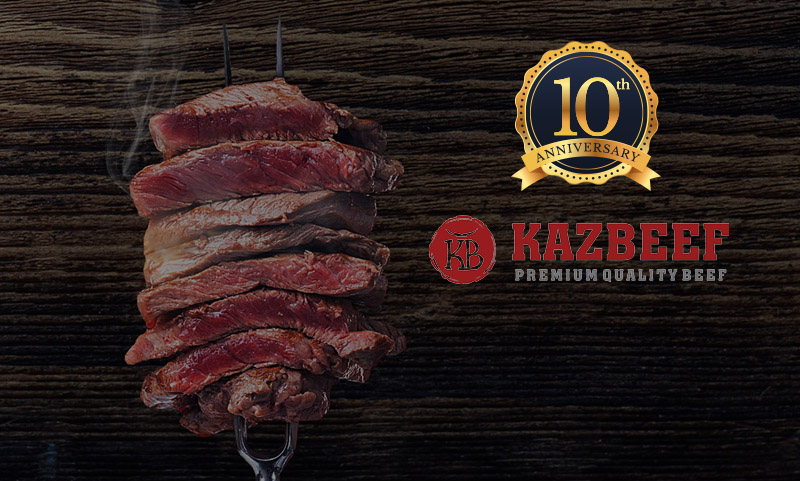 KazBeef, Kusto Group's marbled beef operation, recently marked the 10th anniversary of its founding.
While celebrations for KazBeef's 10-year anniversary have been postponed due to the ongoing coronavirus, Beibit Yerubayev, the company's CEO, thanked his staff for their hard work and commitment to the project.
"I would like to extend my thanks to all our staff for their tireless work over the past 10 years to make KazBeef the success it is today," said Mr Yerubayev. "There will be time to celebrate later, but now our immediate concern must be to keep our workers safe and our supply chains functioning during this pandemic, so that we can continue to feed our customers."
Launched in 2010 as a joint venture with US agricultural leader Global Beef, KazBeef has grown to become a vertically integrated manufacturer of premium beef products, playing a leading role in developing Kazakhstan's high-quality protein industry. With its sights set on supplying international markets, KazBeef has recently commissioned a brand-new feedlot for 10,000 heads of cattle and renovated a processing facility.
Yerkin Tatishev, Kusto Group's Chairman and Founder, praised KazBeef's growth: "KazBeef has made great strides over the past decade in developing what is a key strategic industry for the country as a whole, providing jobs and opportunities for people in rural areas."
"The achievements in 10 years have been outstanding, but I'm more excited about what the next 20 years hold," added Mr Tatishev. "Kazakhstan's vast pastures and long tradition of animal husbandry mean it has all the ingredients to become a leader in global protein production. With more international partners and investment coming on board, KazBeef can continue to drive this mission."
Reflecting on 10 years of KazBeef, Mr Yerubayev was also eager to look ahead: "We have established an excellent platform for delivering best-in-class beef products, but we're not losing sight of the bigger picture. This is only the beginning."